With more than 20 years of experience in the industry our service areas include Burlington, Collingwood, Dufferin County, Grey County, Halton Hills, Mississauga, Mono, Oakville, The Blue Mountains, Southgate, Wellington County and beyond.
French Glass Co. provides the highest level of quality service and materials, along with the ultimate in glass design.
You can be assured you are working with experienced, knowledgeable custom glass contractors offering precision installation detail. We pride ourselves on efficient, reliable, and professional results.
Everything custom glass you need done; we can do! If you have an ideal design in mind just show us a picture and we can work with you to turn it into reality.
smart solutions
To the most complex challenges
As Dimon-Fusion certified installers we offer the very best protection against hard water stains by filling in the peaks and valleys of the shower glass-water, soap scum, and contaminants are easily washed off the glass, cutting cleaning time by up to 90%. This in turn reduces the growth of harmful microbes, promoting a more hygienic environment.
Every shower door that is treated with Diamon-Fusion is backed by an unparalleled lifetime warranty.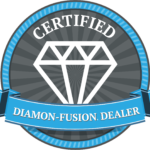 We pride ourselves on our strong relationships with our clients whether they are homeowners, designers, contractors, or custom builders. We work with them professionally, turning their dreams into reality. We specialize in glass showers, partitions, and interior/exterior railings. These are among our specialties, but we have a huge selection of other glass products and services for your next project.
We Provide Everything You Need for a Stress Free Project
Check out our latest Work
Highly recommend French Glass. Corey is the guy you want for your glass needs. He did the glass railings at our first home and we loved it so much we had him do the glass railings and glass shower at our new house. Looks so good and we love it!
Corey did my showers, two of them, as well as the guard rails for my stairs and I couldn't be happier with the results. He completed the job in a timely manner with no/minimal mess to the home. He was clean and respectful while in my home. I would highly recommend him and his team to anyone who will listen. I cannot express my gratitude to him for the work he's completed in my home. 10/10 5 stars to Corey and his teams!
French glass is absolutely incredible, they did my upstairs bathroom then a couple years later got them to do my basement bathroom. On time fair prices, all employees are completely professional and have great work ethic. Corey personally came and gave me quotes and double checked the quality of work after completion. Which was flawless btw. Would highly recommend them every chance I get.
We hired French Glass Co to do the deck railings, and a shower at our cottage. Cory and his team were great and the finished product was better than expected. A few key points that stood out for my wife and I. They started on time, finished on time, and were accurate with the estimate. Great job guys!
Corey and his team were quick with their response, took the time to understand our needs and vision and produced a beautiful, amazing quality job in a timely manner. We couldn't be happier!
French glass is a pleasure to work with. They come in on time and provide an excellent product
Associations & Certifications
Companies we have worked with